Check out Dr. Domar's latest book Finding Calm for the Expectant Mom
. With the tools and problem-solving approach presented in the book, you can adjust your expectations, restructure negative thought patterns, cultivate resilience, and not only meet the challenges of pregnancy, but happily anticipate the most amazing experience of your life: becoming a mother. According to Dr. Christiane Northrup, New York Times bestselling author of Women's Bodies and Women's Wisdom Dr. Domar's latest book is "Essential reading for all pregnant women who are anxious about labor and birth. And that's the vast majority in today's fear-based medical environment."
Dr Alice Domar's Books
DVDs
Stress & Relaxation Explained: An Introduction to Stress Management and Relaxation Techniques

Winner of 2007 Telly Award for Wellness Programming Excellence!
Stress & Relaxation Explained is a comprehensive, humanistic approach to relaxation therapy and stress management techniques. Stress and anxiety are all around us – from the pressures of the competitive workplace, to our everyday obligations of home, family and finances. Understanding the nature of stress and how it affects our mind, body and overall health is key to effectively managing and responding to it. Once you understand where stress comes from, its physiological effects, and how it affects our behavior, you will be able to more effectively utilize relaxation techniques like yoga, meditation and guided imagery – and their rejuvenating effects will be far more long-lasting. This DVD explores all aspects of stress reduction, including: types of stress and causes; health risks; types of relaxation techniques and how the choose the best for you; real life case study and demonstrations of relaxation techniques; and a sample immersive, nature-based, guided relaxation experience in 5.1 surround sound.
Infertility Explained: The Complete, Authoritative Guide to Everything you Need to Know on Your Journey to Parenthood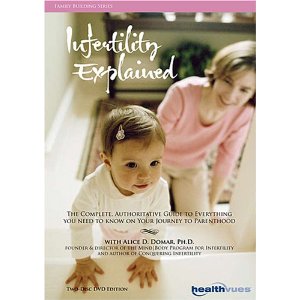 This two-disc DVD production provides an authoritative resource for over   six-million clinically infertile couples of child-bearing age in the United   States, helping them to make informed choices and achieve greater confidence in   their decisions made in consultation with healthcare practitioners.
In a uniquely clear, convenient, and credible way, Infertility Explained   shares the practical and professional insights of leading authorities in a   compassionate exploration of infertility and related issues-in contrast to the   welter of information available through the Internet and scores of books and   pamphlets.
Infertility Explained contains over 3 hours of content
Topics include:
Disc 1: Education
Definition of Infertility
How Pregnancy   Occurs
How to Begin the Journey
How to Select a Reproductive   Endocrinologist
Costs and Insurance Issues
Explanation of Fertility   Treatments: Factors, Tests, Treatments and Physical Risks
Explanation of   Donor Options: Definitions and Emotional Issues
Adoption after Infertility:   Definitions, Recognizing and Resolving Loss
Disc 2: Coping
Fertility-related Stressors
Secondary   Infertility
Mind/Body Medicine and Coping Strategies
Support Forums:   Benefits of Therapy, Peer Support Groups and Online Forums
Lifestyle   Effects and Alternative Treatments
Patient's Perspective: Successful   Journeys and Advice